Orange bouquet
Fresh flowers & personally delivered
In stock: Yes This product is in stock at our florists.
Soonest delivery: Tomorrow Order before 13:00, same-day delivery in any city in Belgium. Order before 12:00 on saturdays.
Guarantee: 100% Satisfaction guarantee We have a 100% satisfaction guarantee. We are not satisfied until you are. We also offer a delivery guarantee and you receive a 5-day minimum freshness guarantee.
Always the largest bouquet: The florist uses the current day-price of flowers for this bouquet. Therefor, you always receive the largest bouquest for the selected price. The higher the price, the more fresh flowers the florist in Belgium will use.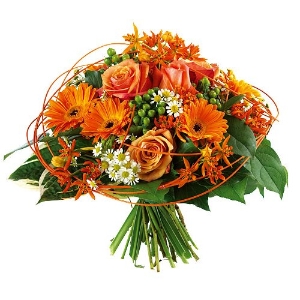 Reviews by
recipients
of this bouquet:





rating
9
(32 reviews)
94%
of those recipients recommends Regiobloemist to their friends.
Product information: Orange bouquet
Product description:
Orange bouquet
Handmade and personally delivered by the florist in Belgium.
Prices:
Our prices include 6% VAT and are excluding only € 10,00 servicecosts.
Product of nature:
Flowers are a fresh product, the delivered bouquets can differ.
Secure payment:
You can safely pay with your Credit card, Maestro, Bancontact/MrCash, Paypal or Direct e-banking. Your payment is handled over a secure (ssl) connection.